I'm testing Internet Explore 8 beta to see what's new, and currently using Firefox 3.0 for general browsing. IE8beta1 crashes quite a bit, and it's not playing well with Visual Studio 2008. Clicking on 'Stop Debugging' on VS2008 gives me this:

What's weird is that it shows up in the latest IE I run, and not the one VS2008 started for debugging. It also likes doing this: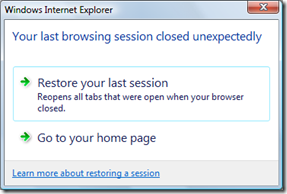 Unexpected? I closed it on purpose, thank you.
Not to be outdone, Firefox 3.0 loves showing me the 'Mozilla Crash Reporter.' Why isn't it more stable than version 2.0?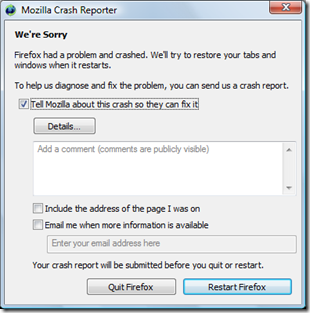 Tags: Beta, FF3, Firefox, IE8, Internet Explorer, Visual Studio 2008