NOTICE: This content discusses features in beta software that may change in the final release version.
UPDATE Nov 7, 2009: Windows 7 RTM installs the driver automatically.
See updates below.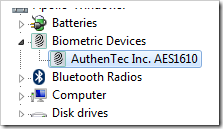 Windows 7's improved support for Biometric Devices looks very promising, and I got a little excited thinking that I didn't have to install any software to use the built-in fingerprint reader on my HP tx1220us. It isn't as integrated as I thought it would be, and I ended up installing additional software to get it working.
One method involved using DigitalPersona Personal 3.1.0.3276, as I did in Windows Vista. I didn't run into any problems installing the software, and it functioned just as well as before. Going this route will provide you with support for finger print sign-on at the application level. If you absolutely need that functionality, this is the software you want to install.

What's disappointing is seeing the following screen in the Biometric Devices control panel.

Okay, I just did that. You're wrong Windows 7.
The second method involved installing Authentec's software. I am assuming this is also beta software, so install it with caution.
AuthenTec | Win 7 Beta Download [32-bit version (19.9 MB)]
AuthenTec | Win 7 Beta Download [64-bit version (21.3 MB)]
Installing it is straightforward, but making it work is another thing. There's no real way to understand what the installer did or what you need to do next. You won't get a shortcut in your start menu, and you'll have to start the finger print enrollment software manually. To do this, run the following program:
C:\Program Files\WIN7TS\TrueSuiteApplication.exe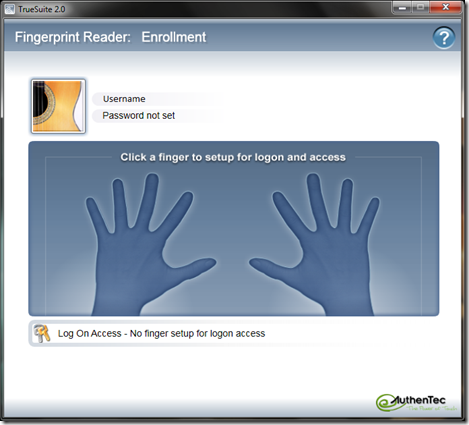 This will let you use the finger print reader to log-on to Windows 7. I haven't been able to use it for programs. Also, this method doesn't make the "The selected fingerprint reader has no management application installed" message in the Biometric Devices control panel go away.
UPDATE: Windows 7 RC now allows users to run the AuthenTec True Suite Application using the Biometric Devices control panel by clicking "Manage your fingerprint data."
Tags: AES1610, AuthenTec, Beta, Biometrics, DigitalPersona, Fingerprint Reader, Hardware, How To, HP, Laptop, Pavilion, Screenshots, Software, Tablet, Technology, tx1000, tx1000z, tx1220us, Windows 7