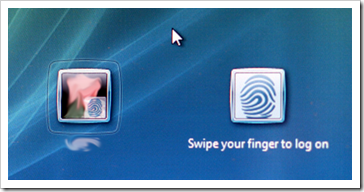 I talked about how DigitalPersona can be used on HP's tx1000 tablets instead of the bundled Bioscrypt software. Now, there's a newer version of DigitalPersona worth the download.
Version 3.1.0.3276 of DigitalPersona Personal now adds support for the following instant messaging software and browsers:
MSN Live Messenger, Yahoo Messenger, and AIM 6.8
Mozilla Firefox V2.x and V3.0 Web Browser
Above, you can see Vista's Log on screen with a better looking fingerprint picture for "Swipe your finger to log on." It also overlays a fingerprint on the account pictures.
Here are additional screenshots: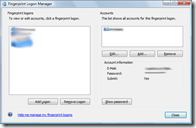 Download from HP: DigitalPersona (32-bit), DigitalPersona (64-bit)
Tags: AIM, DigitalPersona, Fingerprint Reader, Firefox, HP, Live Messenger, Mozilla, Yahoo! Messenger