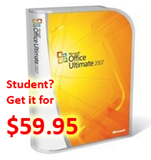 In just a little over three hours from now, students, like me, can purchase the Ultimate version of Microsoft Office 2007 for only $59.95! Amazon.com currently lists the application suite at $619.99. This steal would save me over $500!
That's even lower than the Home and Student version price of $119.99.
Head to http://www.theultimatesteal.com/ for the countdown and more details.
Tags: Microsoft, Office 2007