Just got new information about the next version of Windows Home Server, code named "Vail". Robert McLaws posted some screenshots of an installation. See more screenshots from his gallery.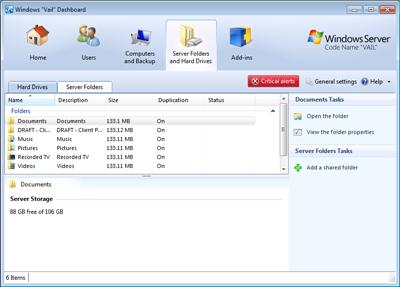 Source: Robert McLaws
Highlights:
Based on Windows Server 2008 R2 – no more Windows Server 2003 bits
64-bit (required)
New "Dashboard" – seems like a replacement for the Home Server Console
HomeGroup support to happily mingle with your Windows 7 machines
Now comes as Home Standard or Home Premium
Some Bummers:
Not as much integration improvements with Media Center/HTPC functionalities as I would expect
64-bit processor a requirement (Existing 32-bit processor-based WHS? Looks like you'll have to upgrade your hardware)
Having two editions is not so great in my opinion. What will be "premium" about Home Premium?
It's too early to tell what else will be included or improved, but seeing new development about the WHS only stirs up excitement. More please.
Tags: Backup, Electronics, Hardware, Microsoft, WHS, Windows, Windows 7, Windows Home Server, Windows Server 2008 R2