A custom Windows Home Server build has been on my to-do list since this summer, and I recently put together a SolidWorks model of the components in configuration that I think would work pretty well. Below is an internal view of the components.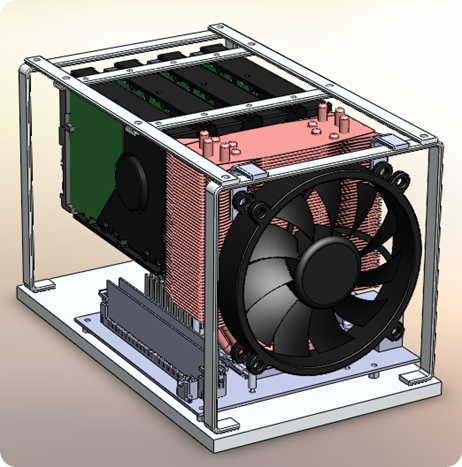 Component List:
Intel Pentium E5200 Wolfdale 2.5GHz LGA 775 65W Dual-Core Processor (QTY: 1)
Intel DQ45EK Mini-ITX Motherboard (QTY: 1)
Thermalright True Copper Heatsink (QTY: 1) I opted to buy the Thermalright Ultra-120 extreme (LGA775) 
mushkin 240-Pin DDR2 SDRAM DDR2 800 (PC2 6400) (Model 996533) (QTY: 2 x 1GB) It looks like these do not work well with the DQ45EK+WHS combination. (Blue screens galore).
Western Digital Caviar Green WD10EACS 1TB SATA Hard Drive (QTY: 1-3; max 4)
Scythe SY1425SL12M 140mm Case Fan (QTY: 1)
picoPSU-120 (still debating whether this is right; this works just fine) (QTY: 1)
The Thermalright True Copper heatsink is a little hard to come by, but hopefully I'll have all the hardware by the second week of 2009. I can't wait to get this up and running.
Continued: Custom Windows Home Server Build: Putting It All Together
Tags: DQ45EK, E5200, Hardware, Intel, Microsoft, SolidWorks, SY1425SL12M, Thermalright, Ultra-120, WD10EACS, Western Digital, WHS, Windows Home Server