See update below.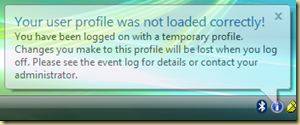 Your user profile was not loaded correctly! You have been logged on with a temporary profile. Changes you make to this profile will be lost when you log off. Please see the event log for details or contact your system administrator.
This problem can be really annoying especially if you have to log on as quickly as possible, and it just seems very random. I don't know what conditions lead to this, but there's one thing that indicates that it's already happening before you even see the desktop. After signing in, "Preparing your desktop..." is displayed instead of the normal "Welcome" screen.
Have you encountered this problem? Has anyone figured out why this happens, and is there a solution?
Update (November 28, 2007): This has never happened again since I upgraded to Windows Vista SP1.
Tags: Issues, Microsoft, Profiles, SP1, Vista, Windows