The temptation to buy an iPod is a little stronger this time around.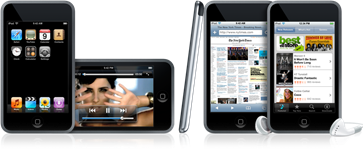 The new iPod Touch is particularly interesting. I've been looking for a way to share my photos in the house wirelessly, and honestly, the iPod Touch's form factor, touch screen, landscape/portrait function, and 802.11g Wi-Fi connectivity package is better than anything I've looked at so far. It even plays photos slide shows with music to boot. I wonder if it's possible to use it as a viewer for shared photos on my home network.
Don't get me wrong, this isn't the only reason why I want one. I'm not just going to let an iPod Touch sit on the coffee table.
The classic iPod is also tempting with the new 160GB version. That extra space is definitely handy for toting files around. The fifth generation 80GB just wasn't as enticing.
The new iPod Nano, or 'fatty' as some call it is also quite nice. See, I'm not as negative as some people, calling it 'fatty'. This is how I saw it: a smaller iPod classic. It's like the regular iPod that shrunk a bit. That's all.
Tags: Apple, iPod, iPod Nano, iPod Touch